It's the end of August, which means that fall is right around the corner. Even though I know I'm probably in the minority, I'm really excited for summer to end- fall is my favourite season! There's nothing I love more than watching the leaves change colours, sipping on PSLs, and transitioning to my cozy fall/winter clothes. However, clothes aren't the only thing that need to be transitioned during this time of year. As the weather cools down and the humidity drops, there are also various aspects of your skincare routine that you should be readdressing.
Moisturizers & Lotions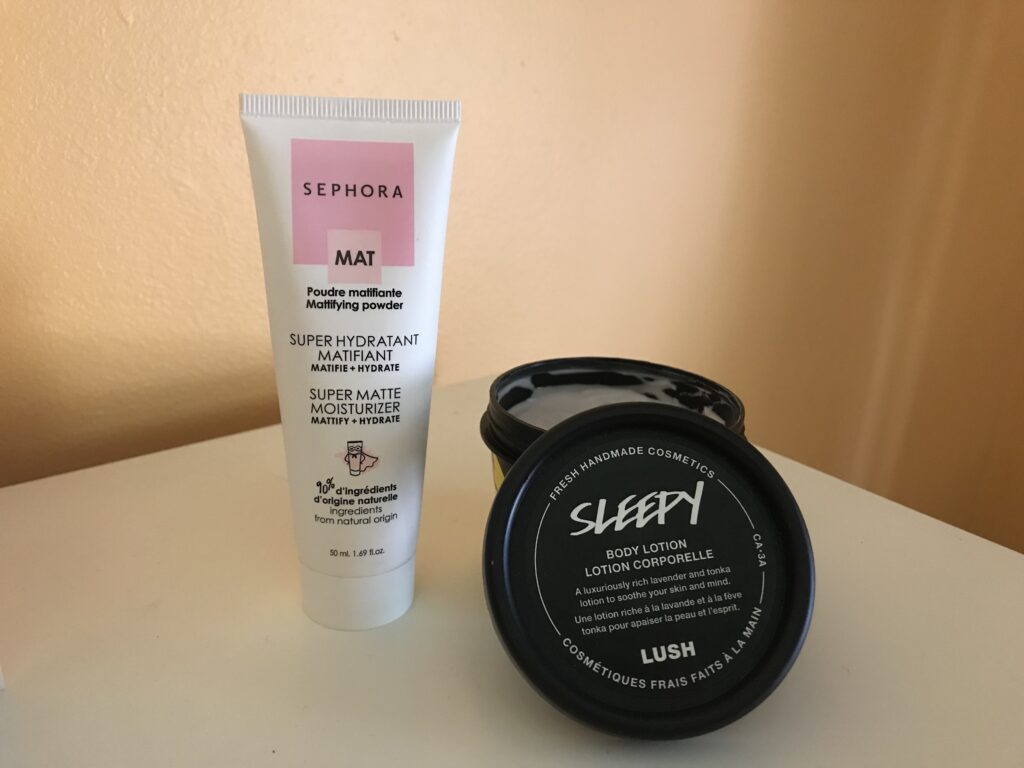 In the summer, many people tend to reach for lightweight moisturizers. After all, layering lots of heavy creams on a humid day can feel sticky and gross. However, as the weather cools down, you should opt for a thicker, heavier moisturizer, so that you can lock in as much moisture as possible during the cold, dry days ahead. Creams are especially good for the fall and winter months thanks to their heavy and extremely moisturizing formulations. Also, you'll likely want to start applying lotion to your body more frequently, as the drops in temperature and humidity will slowly start to dry out your skin all over. Products with oils listed in the ingredients, whether intended for face or body, will likely be good bets, as the oil will especially help to lock in moisture. Personally, I just purchased the Sleepy lotion from Lush, and can't wait to use it all fall/winter! Last winter, I was using a body butter from The Body Shop, which was also great at keeping my skin soft and moisturized.
Hyaluronic Acid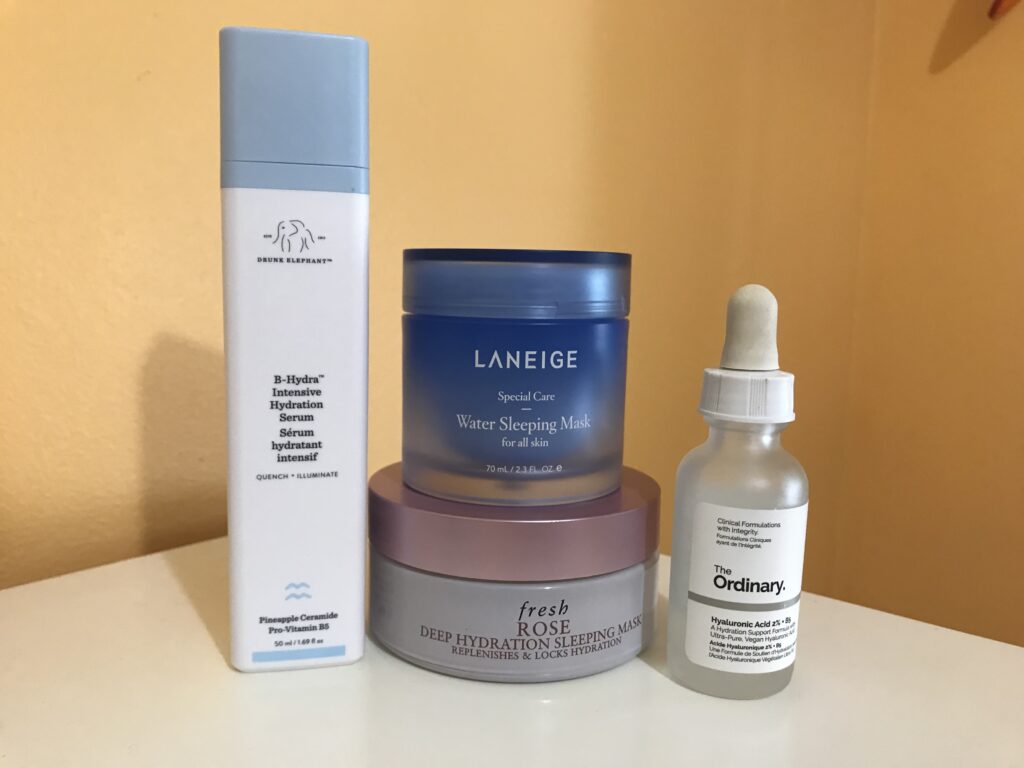 One of the most popular skincare ingredients right now seems to be hyaluronic acid, and for good reason. It can draw moisture in from the air to be absorbed into your skin, leaving behind very dewy skin that feels highly refreshed. Personally, I've been using The Ordinary's Hyaluronic Acid 2% + B5 all spring and summer, and I've really been loving it. However, depending on where you live, you may want to reconsider using this miracle ingredient during drier months. Hyaluronic acid is a bit like a sponge- it draws moisture from wherever it finds it. If you generally have low humidity during your winters, hyaluronic acid may actually draw moisture from your face, drying it out. Of course, if you use a humidifer during the winter, this may not make as big of an impact on you. Personally though, as a Canadian who always deals with extremely dry winters, I find it easier to switch to a hyaluronic free moisturizing serum during the cooler months. Last year, I purchased Drunk Elephant's B-Hydra Intensive Hydration Serum, which kept my skin amazingly moisturized.
Mattifying Products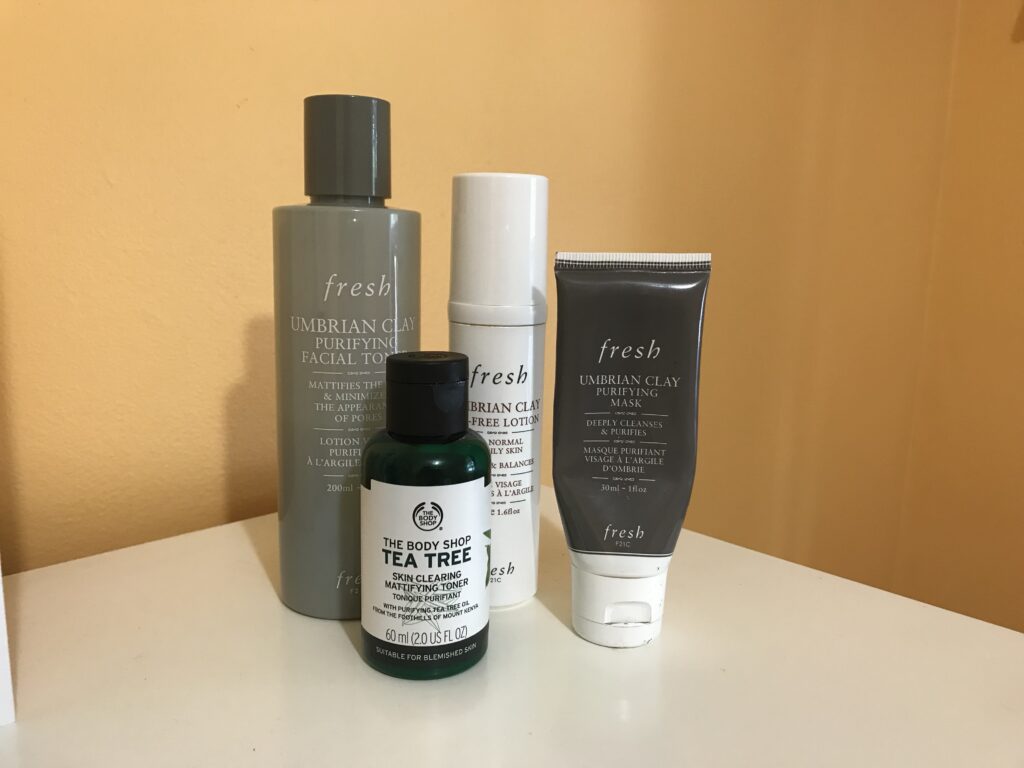 Thanks to summer's high temperatures and sticky humidity, many of us (especially those with normal/combo/oily skin) tend to load up on mattifying products. However, depending on your skin type, you may want to gradually use less of these products as the summer comes to an end, as I know that in my own experience, they can lack the moisture your skin needs for a dry winter.
For everyone with large pores, I feel your pain. Mattifying products can be one of the easiest ways to minimize pores, but they can definitely feel drying, especially depending on where you live. Personally, I try to use a lot of moisturizing masks during the winter to help with this. You may also want to try incorporating nose strips/clay masks into your routine to help unclog pores. That way, you won't have to use as many mattifying products on a regular basis. I'm a huge fan of the Umbrian Clay mask from Fresh, as it doesn't dry out my skin too much. Just a heads up though- all of the individual products from this line seem to work miracles on my pores/oiliness, but they are definitely too drying when used together during the winter.
Although transitioning from summer skincare may take a little bit of work, the glowing skin you'll have all winter will be well worth it! Of course, be careful to gradually incorporate new products into your routine, rather than switching everything out at once. This will give your skin an opportunity to adjust to each product, and will leave it happier, softer, and more comfortable now and throughout the winter.